All the different styles of Bharatnatyam stem from the Natya Sastra and follow the prescribed pattern of the Sadir Katcheri evolved in the 18th century starting with the Alaripu and concluding with the Tillana. The differences, if any, are very slight and purely regional in flavour depend upon the environmental conditioning of that particular area or village and also on the Guru who teaches the art and makes changes over time due to personal and external influences. Most of these Banis are named after the Village of the Gurus.
Let us now try to analyse the evolution of these traditions or schools of Bharatnatyam.

1. THE PANDANALLUR OR THANJAVUR STYLES:
Evolution: The Thanjavur Bani describes the dance that was practiced in the Thanjavur royal Court by the descendants of the Thanjavur Quartet. They were four brothers who were musicians and dance composers in the Thanjavur Royal Court in the early 19th Century. The present day Margam or repertoire of Bharatnatyam had been created by them. Both Pandanallur as well as Thanjavur styles draw from this repertoire, using some of the oldest compositions in Bharatnatyam. The Bharatnatyam taught by the great and inimitable Meenakshi Sundaram Pillai (descendant of The Tanjore Quartet) of Pandanallur village, came to be known as the Pandanallur School of Bharatnatyam.
Kandappa Pillai (descendent of the Tanjore quartet) is renowned for his fast paced nritta and spontaneous abhinaya. For example, in natya passages, the ideas and poses remained the same, but the dancers would frequently pace back and forth, having the freedom as a solo artist to explore the space on their own while depicting abhinaya. He implemented certain stylistic changes emphasizing the role of music and rhythm. For example, during jatis or teermanams, the singers will continue singing and instrumentalists will continue to play the melody , while the nattuvanaar recites the sollukattu.
Kitappa Pillai (Kandappa Pillai's cousin) followed the same pattern.
Within the umbrella of The Thanjavur style, many Gurus evolved their own styles.
1a. Guru Muthukumar Pillai's style came to be known as the Thiruvalur style.
1b. Elappa Pillai of Kanjeevaram evolved his own style with clarity of stance, rhythmic tempo and subtleties of abhinaya. This came to be known as the Kanjeevaram style. He carried forward the Kandappan style which had the same characteristics.
Execution: It is characterised by broad sweeping movements, inherent beauty of lines and postures, austerity and vitality. The pure dance movements are linear and geometric and abhinaya is more classically stylized rather than realistic.
Famous Gurus and performers:
a. Kitappa Pillai( grandson of Pandanallur Meenakshi Sundaram Pillai)
b. Alarmel Valli( disciple of Chokkalingam Pillai, Son – in – law of Meenakshi Sundaram Pillai)
c. K. N Dandayudapanipillai ( relative of Guru Meenakshi Sundaram Pillai)
d. T. Balasaraswati ( Student of Kandappa Pillai)
e. Guru K. J. Govindarajan
f. Guru Shri G. Elangovan and Guru Smt. Marie Elangovan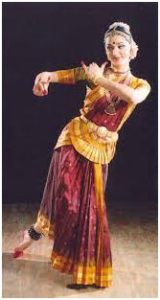 Marie Elangovan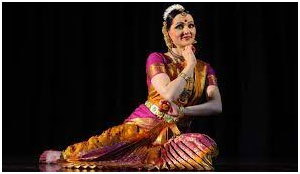 (Tanjore Style)

KALAKSHETRA STYLE:
Rukmini Devi learnt from Pandanallur Meenakshi Sundaram pillai (father-in-law of Chokalingam Pillai) and made several changes to the Pandanallur Bani, creating the Kalakshetra style. Her training in ballet under Anna Pavlova's Dance Company influenced her perspective towards Bharatnatyam and its presentation.
Execution: The linearity and geometry is more expansive and certain movements are exaggerated. It does not use a wide range of adavus. Abhinaya is also stylized and unrealistic and certain sexually explicit mudras are avoided in Sringara items. The rendering of certain lyrics can also be very literal rather than metaphorical.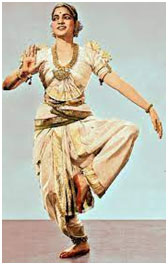 Rukmini Devi (Kalakshetra Style)

VAZHUVOOR STYLE:
It is created by Ramaiah Pillai of Vazhuvoor.
Execution: This style is more feminine, emphasizing lasya, over tandavam. It is characterized by speed, eye catching sculpturesque poses, vivacity and elegance. Most traditional performances begin with a Thodaya Mangalam in praise of Gnana Sabesa, the reigning deity of Vazhuvoor town. Ramaiah Pillai's choreography incorporates static sculpturesque poses.
Famous performers:
a. Chitra Visweswaran( student of Ramiaha Pillai)
b. Kamala Lakshmi Narayanana (student of Ramaiah Pillai). She performed for Tamil cinema to many of her Guru's choreographies.
c. Sumitra Nitin, Sunanda Narayan and Rhadha ( students of Ramaiah Pillai)
d. Priyadarshini Govind( Student of Rajaratnam Pillai)
e. Malavika Sarrukkai ( Student of Rajaratnam Pillai)
f. Padma Subramaniam ( student of Ramaiah Pillai):
When Padma Subramaniam performs, one can definitely see the realistic abhinaya. Her nritta is a little different with more emphasis on poses and karanas and she developed a different style later on, calling it Bharatanrityam.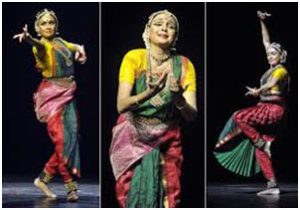 Priyadarshini Govind (Vazhuvoor Style)

MYSORE STYLE OR MELLATUR STYLE:
This style can be traced back to the court of Krishna raja Wodeyar-III (1799-1868). Many eminent dancers flourished in his court. Jetti Tayamma is the main pioneer of this of this dance form which was created by Mangudi Dorairaja Iyer. He revived shudh nritta and perani (dancing on clay pots).
Execution: This style involves items praising living patrons (thus most of the Thanjavur Quartet repertoire) and encourages dancers to stamp the floor softly, focusing on the sound created by the salangai. It exhibits dancer's complicated jathis being performed on clay pots. The repertoire has special features beginning with Pushpanjali, Churnika ( prologue), Ganesh Vandana, Nilugade ( Sthanaka) followed by the usual routine of alaripu, Jatiswaram, Shabdam, Varnam, Padams, Javalis and Tillanas and Sanskrit slokas. The mysore school is full of nritta but us also known for its aesthetic and beautiful abhinaya. It also involves lots of karanas and sculpturesque poses.
Gurus and Performers:
a. Smt Venkatalakshamma
b. Manaswini and Revathi Ramachandran (Revathi was a student of Dorairaja Iyer)
c. Harinee Jeevitha ( student of Sree Devi Vidyalaya)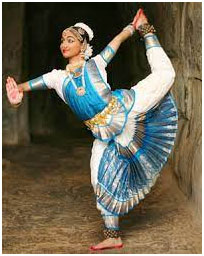 Harinee Jeevita (Mysore Style)
Thus, we can conclude that all the banis bear the individual stamp of the teachers who propagated them. They carried forward the traditional knowledge of Bharatnatyam giving it their own distinct flavour using their own expert sensibilities. They have apparent distinguishing features from each other, yet, they exude the same kind of attributes which define the character and performance of Bharatnatyam.